Happy Fourth of July everyone!
For a change of pace, I'm writing about books AFTER I read them. Well, mostly.
Killing Ruby Rose
By: Jessie Humphries
When Ruby's dad, an LAPD SWAT sergeant died,
Ruby picked up where he left off and went after the bad guys herself.
She
ends up killing a murderer to save his intended victim, and discovers that she's gone from being the huntress to the hunted. There's a sick mastermind at play, and he has Ruby in his sights.
The intense action and the sexy boyfriend kept me hooked from the very beginning, and I loved it.
I had two small complaints--Ruby was super broken at the beginning of the story. I know a lot of people love reading about broken characters, but she was too broken for my taste Second, people were far too willing to let Ruby be alone during this dangerous time. I guess it was necessary to advance the plot, but it seemed a little unrealistic--especially when her best friend and her therapist desert her.
On the other hand, I often don't enjoy books as much when I read them on my kindle, and this one kept me riveted. It is definitely for mature YA readers because of the high body count.
Fangirl
by Rainbow Rowell
This one was the biggest disappointment in the pile. I loved eleanor and park, so I had high hopes for Fangirl, but I didn't like it. I basically just skimmed the last half just to see how it ends. It is contemporary new adult fiction.
The Fifth Wave
On a lonely stretch of highway, Cassie runs from Them. The beings who only look human, who roam the countryside killing anyone they see. Who have scattered Earth's last survivors. To stay alone is to stay alive, Cassie believes, until she meets Evan Walker. Beguiling and mysterious, Evan Walker may be Cassie's only hope for rescuing her brother--or even saving herself. But Cassie must choose: between trust and despair, between defiance and surrender, between life and death. To give up or to get up.
This was a great book, and I enjoyed it even though I'm a little sick of dystopian. It wasn't perfect—either it was so exciting that I read too fast and missed an explanation somewhere or there was a pretty gaping plot hole (50/50 chance, actually). But that "so exciting that I read too fast" is a pretty awesome thing, wouldn't you say?
I might be the only person who didn't know this, but The Fifth Wave has joined the ranks of YA books that are being made into movies as fast as they can be churned out.
Screwing Up Alexandria
I love YA books with a male protaganist, but they can be hard to find. That, combined with the awesome historical settings and the exciting action would earn 5 stars from me. But you throw in a fun time-travelling romance, and I'm totally hooked. Screwing Up Alexandria would be a great book to read all by itself.
When Mark comes home from Babylon with a coded tablet, he never dreams someone would be willing to kill to get it. But they are. So Mark and Miranda kidnap an ancient cryptographer named Nin and take her to the Library of Alexandria to decipher it. The search for the truth of the tablet takes all of them to the most dangerous time on earth. And when Nin ends up on an altar surrounded by blood-thirsty crowds, only Mark can save her. But he's blind.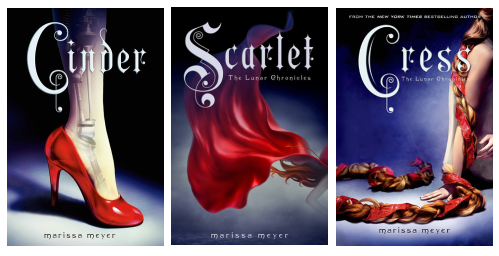 The Lunar Chronicles
I read all three of these so quickly they kind of feel like one book, even though they each have their own heroine. I was initially turned off by the fact that Cinder was a cyborg, but if you feel the same way, no worries—she is super awesome, and there is a fun romance to make up for it. If you haven't read them yet, you definitely should! Cinder is a retelling of Cinderella, Scarlett is Little Red Riding Hood and Cress is Rapunzel. Cress was my favorite--instead of a tower, she was locked in a satellite. Such awesomeness.
These Broken Stars
by: Amie Kaufman and Meagan Spooner
This is the story of Lilac Laroux, the richest girl in the universe, and Tarver Merendsen, the soldier she ends up with on a lonely planet. I'm a huge fan of survival stories, and I'm a huge fan of romance, and this struck exactly the right chord with my heart. Amie Kaufman and Meagan Spooner each take one character and write from their point of view. You probably know how much I love collaborative novels like that.
Allie's blog post about the a lot is one of my favorite posts ever written, and her post about depression is incredibly moving. So I've been excited to read this ever since I heard it was coming out. It's a library book, but I wish it wasn't so I could take a sharpie to the swearing. That way I could keep it out where my kids can see it. Instead, I read it furtively, where they can't see, because it is a brightly colored comic book, and what child can resist those? It is so amazing, that I was still at the library, and my 16 year old daughter was checking out her own set of books, and I kept nudging her to read the next few lines, because I was laughing so hard tears were streaming down my face.
I am so excited for this one. The Disreputable History of Frankie Landau is one of my all time favorite books (who can resist a girl who loves Wodehouse?) From what I can tell, this one is darker, but I still have high hopes. I've read about 4 pages already, and the imagery is stunning.
Yes. A grown up book. We'll see how I do. This one was recommended to me in the comment section of my last post. Reading a grown up story never hurt anyone. I'll let you know how it goes.