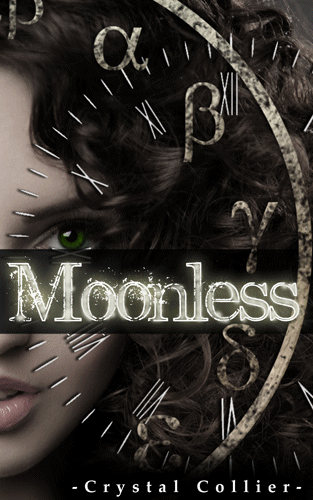 Synopsis (from amazon):
In the English society of 1768 where women are bred to marry, unattractive Alexia, just sixteen, believes she will end up alone. But on the county doorstep of a neighbor's estate, she meets a man straight out of her nightmares, one whose blue eyes threaten to consume her whole world—especially later when she discovers him standing over her murdered host in the middle of the night.
Among the many things to change for her that evening are: her physical appearance—from ghastly
to breathtaking, an epidemic of night terrors predicting the future, and the blue-eyed man's unexpected infusion into her life. Not only do his appearances precede tragedies, but they're echoed by the arrival of ravenous, black-robed wraiths on moonless nights.
Unable to decide whether he is one of these monsters or protecting her from them, she uncovers what her father has been concealing: truths about her own identity, about the blue-eyed man, and about love. After an attack close to home, Alexia realizes she cannot keep one foot in her old life and one in this new world. To protect her family she must either be sold into a loveless marriage, or escape with the man of her dreams and risk becoming one of the Soulless.
My Review:
I don't remember how I stumbled onto Crystal Collier's blog, but I always enjoy it. She reviews new books, is sweet and engaging, and has a great sense of humor. What isn't to like? So when I had the chance to get a copy of Moonless in exchange for a review, I jumped at the chance.
I didn't know anything about Moonless when I started reading it, and frankly, I was a little worried by the end of the first chapter. I'm not a fan of Gothic Horror, and this book is definitely written in that vein, although if there was a continuum, I would put it more on the Gothic Romance side of the line. And then there are the zombies. Nope, I'm not a zombie fan either. I've never made it through a zombie book before, and that includes attempts at reading several zombie books recommended here at Prosers.
I hope Crystal doesn't mind that I refer to the Soulless as zombies, or that in the future I will say with pride that I finally like one zombie book. The relationship between the Passionate and the Soulless was fascinating. Kiren was a tortured and dreamworthy hero, but Mile
s is the character who won my heart. I can't wait to find out what happens to him next.
Crystal has compared Moonless to Jane Eyre, but in my opinion it was more romantic than that. With zombies. The prose in this story is lyrical, and Crystal has such a strong voice. If you are a fan of lyrical gothic horror, Moonless will not disappoint you. And if you are not a fan, Moonless might just change your mind. You can purchase Moonless here.
Or you can enter to win a copy, or another great prize!
a Rafflecopter giveaway